Chef´s knifemaking course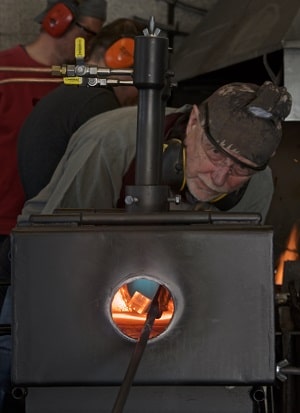 Courses Coming:
18 – 20.2.2022 (6 vacancies)
25. – 27.11.2022 (6 vacancies)
A challenge of steel: Make your own chef´s knife! My chef´s knife course is intended for beginners, those interested in demanding craftsmanship who are not afraid to challenge their skills and creativity. This is a weekend course during which you design and make your own knife. On this course you will learn the basics of forging and make your very own practical kitchen knife with a wooden handle- a knife that will last from generation to generation.
The course is suitable for both beginners and more experienced hobbyists. I only take six students at a time because I want to guarantee individual teaching and provide participants with happy experiences of learning and achieving.
Timetable
The chef´s knife making course in an intensive course at our Hanhiniitty workshop in Niinisaari, Puumala. The course will start on Friday at 18:00 pm, and the following days timetable will then be agreed together. The course will be about 16 hours altogether.
What else?
The Gallery of the workshop will act as resting place, with the possibility to make tea and coffee. The course price will include a soup lunch on Saturday and Sunday and tea or coffee daily. All course participants will have to bring their own working clothes and it would also be good to have your own earmuffs.
Price
The course costs 295 €/ person (inc. VAT 24%). The price includes teaching, machinery use, materials, lunch on saturday and sunday and tea or coffee daily.
Accommodation 
Accommodation can be arranged at the Okkolas Holiday Cottages, which is located near by. (www.okkola.fi). Fees at Okkola are 40 €/person/night, you have to provide your own sheets and towels. Otherwise these can be provided by Okkola for 13 €/night. Hotel accommodation can be arranged in Puumala. (10km)
Insurance
We will insure you for any damage caused by the organizer of the course. It is still recommended to take out your own personal accident insurance.
Registration
We will take a maximum of six participants for this course in a first come first served bases. I would ask you to register for this course through the link below or by email martti@hanhiniitty.fi. After that I will send you a bill. Having paid your course-fee you will then be committed to participate. After that you have the right to cancel your registration and be reimbursed only if a good reason is provided. Reimbursed course fees are paid after an administration fee of 80€ has been deducted. If there is less than four participants, the organizer has the right to cancel the course
Register here:
I am glad to give any further information by e-mail martti@hanhiniitty.fi or by phone +35840 740 1831.
Blacksmith greetings
Martti Malinen